See A Cosmetic Dentist In Northeast Seattle, WA
Many issues may be affecting your confidence with your smile. Whether you're dealing with chips and cracks, a dull smile, or alignment issues, there's a solution for you. There are many different types of cosmetic dentistry procedures for you to choose from and it's important to talk to your dentist to see which procedure is best suited for your smile.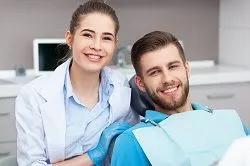 Types of Cosmetic Dentistry Procedures
No matter what issues you may be struggling with, there's a cosmetic dentistry procedure out there for you. Some procedures include:
Veneers- Veneers are a thin ceramic shell that covers your existing tooth with something more aesthetically pleasing. Veneers can cover up any issues you may have with chips or cracks, staining, spaces, and misalignment in your teeth. Veneers are designed to look and function just like your normal teeth and are long-lasting if they are properly cared for.
Teeth Whitening- If you're struggling with stained or yellowed teeth, whitening can clear all those issues away. Whitening can be done in-office or with a take-home treatment.
Inlays and Onlays- These are also known as partial crowns. When these are placed on the tooth, they can prevent any future damage from happening to the tooth. They can also help strengthen the tooth and restore it to its natural shape. These look natural and no one will be able to tell any restoration has been done.
Bonding- Bonding is used to fill in any cracks in your teeth. It can also be used to cover up any discoloration or staining that has happened to the teeth.
Snap-On Smile- This is a great product if you want the look of a completely redone smile without extensive procedures. A new set of teeth is created that you can snap on over your current smile. They function just like your natural teeth and you can even eat and drink with them. Care is easy and with proper care, it can last years.
Contact Your Dentist Today!
If you're struggling with any issues that are stopping you from feeling confident with your smile, be sure to contact Wedgwood Smiles today to determine which cosmetic dentistry procedure can help you smile again!
If You Are Interested In Learning More About Cosmetic Dentistry From Wedgwood Smiles In Northeast Seattle, WA, Call Our Office At (206) 525-6636 Today For An Appointment!